Angel Stadium Information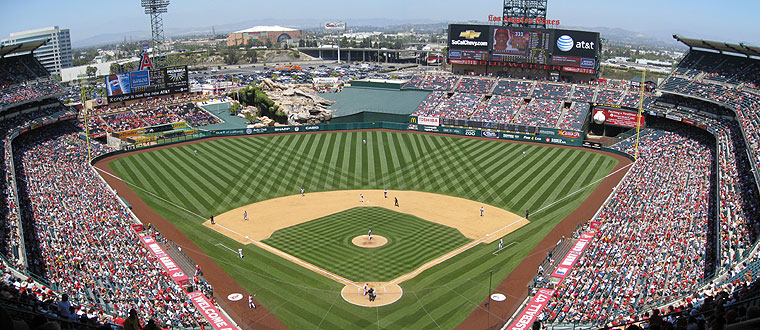 MLB fans will know how to distinguish the Angel Stadium of Anaheim with any other modern-style ballpark stadiums in a heartbeat. It was originally known as Anaheim Stadium and later Edison International Field of Anaheim.
The unofficial nickname for Angel Stadium would be "The Big A". The term was coined by Herald Examiner Sports Editor, Bud Furillo. This fourth-oldest active Major League Baseball stadium have hosted 1967, 1989, and 2010 Major League Baseball All-Star Games.
The ground for the stadium was broken on August 31st, 1964. The stadium has been the home ballpark of Los Angeles Angels of MLB since its opening in 1966. From 1980 to 1994, it acted as the home stadium to the Los Angele Rams of the NFL too.
The stadium was built on a parcel of about 160 acres (0.65 km2) of flat land. The land was originally used for agricultural purposes by the Allec, Russell, and Knutzen families in the southeast portion of Anaheim. Consistent with many major-league sports stadiums built in the 1960s, it is located in a suburban area. However, Angel Stadium is clearly one that hosts plenty of major attractions.
The field dimensions at Angel Stadium are different from other fields as they were derived from a scientific study conducted by the Angels. They tried to formulate dimensions that were fairly balanced between pitcher, hitter and average weather conditions based on the air density at 1:30 pm to 8 pm. The Angels tweaked those dimensions several times by expanding or contracting parts of the outfield by a few feet while trying to refine that balance. Lastly, they settled for 396 feet (120.701 m), which is the shortest center-field in the American League and tied for 2nd-shortest in the major leagues with Petco Park behind only Dodger Stadium.
However, none of this carefully calculated dimensions seemed to matter to their Hall of Fame pitcher Nolan Ryan, who threw two of his record seven no-hitters in this ballpark. He also racked up 2,416 of his 5,714 career strikeouts in eight seasons with the Angels. Ryan eventually superseded Sandy Koufax's career record.
Other than professional baseball and football, The Big A has hosted high school and college football games, National Football League pre-season games, the short-lived World Football League, crusades, Eid al-Fitr celebrations, and concerts, and 2 to 3 AMA Supercross Championship races a year. The flagship radio station, KLAA (830 AM), is also being hosted at the stadium.
For further information on the Angel Stadium of Anaheim, visit the pages listed below.
Parking Information:
Read about parking options available to event goers on the  Angel Stadium parking information page.
Ticket Policies:
For information on ticket guarantee and on our preferred ticket marketplace please view the Angel Stadium tickets page.
Seating Chart & Information:
For information on accessible seating and see the venues seating map, please view the Angel Stadium seating chart page.